Cosmetic Dentistry Veneers Meadowdale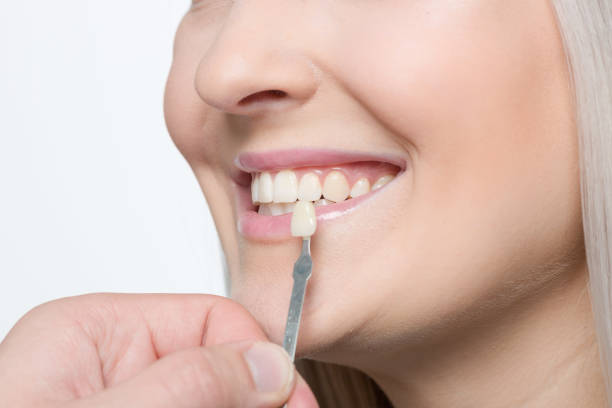 Cosmetic Dentistry Veneers Meadowdale are custom-made shells that fit over teeth to improve their appearance, protect them from damage, and create a beautiful smile. You may only need one or two veneers in the case of a broken or chipped tooth, but many get between six to eight veneers in order to create an even, symmetrical smile. The top front eight teeth are the most commonly applied veneers.
Cosmetic Dentistry Veneers Meadowdale are available to improve the appearance of teeth and fill in tooth gaps, chips, or stains. Their restorative function, however, is just as important. They're most commonly used as a means to correct damages to the surface of your teeth such as chips, stains, and gaps.
You have many options when it comes to choosing the right type of veneers for crooked teeth Meadowdale for you: Here are the common types of dental veneers:
1. Porcelain Veneers
Porcelain is the most common material used for veneers. Porcelain veneers are tooth-colored, versatile, completely custom, and can last 10 to 15 years. They are made of ceramic materials and resist stains better than composite veneers.
2. Composite
A composite resin veneer is completed in one visit. The dentist applies the material to the tooth in layers, each hardened using a beam of light. Finally, the tooth is shaped and polished. This can be uncomfortable, but it shouldn't be painful.
3. Ceramic veneers are one of the most popular types of veneers used and are generally considered an excellent choice for many patients due to their:
Ability to mimic your natural teeth
Ceramic veneers have a natural appearance that's similar to your own teeth, and they can be designed to mimic your natural teeth.
4. Removable Veneers (Non-Permanent)
Removable veneers (custom-made snap-on) are less invasive, non-permanent, and cost less than traditional veneers. They are also removable. However, removable veneers can be uncomfortable, do not blend in as well with your natural teeth, and must be replaced often.
 5. PureLume Veneers
PureLume is a brand of veneers that are made from transparent, ultra-thin (0.2 mm) porcelain. They can be applied to almost any tooth type and have a natural appearance.
PureLume is the only brand of veneers that can be used on molars and premolars. It is also the only veneer material that is naturally antibacterial and odorous-free.
There are many types of veneers, and each has its own advantages and disadvantages. If you're interested in having veneers, it's important to understand the differences between them so that you can make an informed decision about which type of veneer will work best for your individual needs and desires.
To sum it up, when it comes to getting dental veneer treatments, there are a few things to keep in mind. First, find an experienced dentist who understands how important the natural feel of the teeth is to patients. Second, look for a facility that uses CEREC technology and can perform the procedure right in their office. Finally, make sure you're comfortable with your dentist and confident that he or she is using high-quality materials. With these three factors in place, you should achieve optimal results.
Picking the best dental clinic from a variety of choices is a matter of decisions, so always make sure to pick one that meets your needs. If you're looking to know veneers dental cost Meadowdale, find a dentist who specializes in cosmetic dentistry to evaluate whether you are a good candidate. Dr. Brent Robinson is the dentist in Meadowdale, please call us at 425-778-1164 or visit our website at www.robinson-dental.com.